Tastes of Taiwan featured at MCCTC's Bistro

Tastes of Taiwan featured at MCCTC's Bistro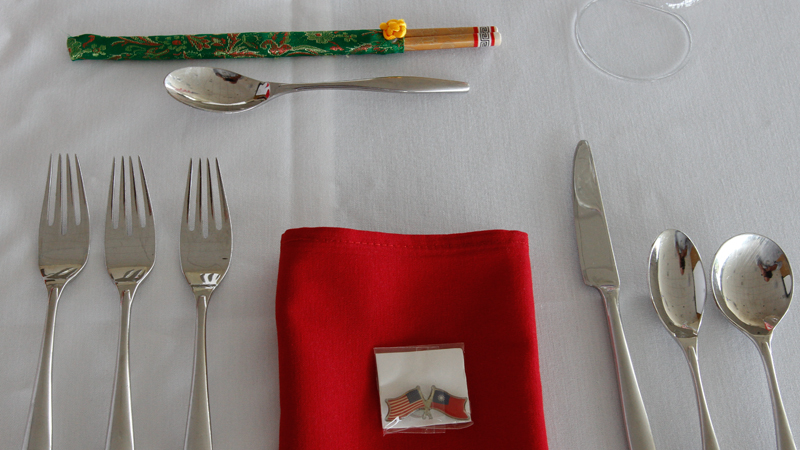 By JORDYN GRZELEWSKI
jgrzelewski@vindy.com
CANFIELD
In the years that chefs from Taiwan have toured the U.S. for a cultural exchange program, they have not visited the same city twice.
That is, until they visited Youngstown.
For the second-consecutive year, the program has come to the Mahoning County Career & Technical Center.
The visit culminated Tuesday evening in a dinner for more than 100 at The Bistro, MCCTC's restaurant operated by culinary-arts students and instructors. The event was a partnership between MCCTC and Youngstown State University's hospitality management p rogram.
"We feel we are doing something very meaningful â€" and you start with cooking because everybody loves to eat," said event organizer Florence Wang, a commissioner for the Overseas Community Affairs Council for the Republic of China (Taiwan). Wang is originally from Taiwan.
The program brought chefs Tony Huang and Amo Liang to five cities in the U.S. Huang leads Hsing-Wu University's hospitality program, and Liang is a culinary instructor there.
Huang noted long-standing ties between the U.S. and Taiwan, which maintain unofficial relations. He noted that just as American culture has embraced Chinese food, Taiwanese food has been influenced by Americans. Beef noodles, for example, are popular in Taiwan because of American influence, he said.
Tuesday's dinner was prepared with help from MCCTC and YSU students, and proceeds from the ticket sales will fund scholarships for MCCTC culinary students to attend YSU's hospitality management pr ogram.
Among the guests was Eric Jiun-yaw Huang, director general of the Taipei Economic and Cultural Office in Chicago, which acts as Taiwan's de facto consulate general in the Midwest. The office sponsors the chefs' tour of the U.S.
The director general said he hopes the event shows people in Youngstown that Taiwan is an appealing destination.
"I think the most important part is that Taiwan is fun. We have a culture of hospitality, and we have very good cuisine and it a very interesting and enjoyable place to visit," he said. "We'd like the people of Youngstown to visit Taiwan as a tourist, and this is an opportunity for them to have a taste of Taiwan."
Wang said the educational component is one of the most important aspects of the program.
"Hopefully we'll start a young generation that knows the culture," she said.
MCCTC culinary arts instructor Matt Putzier said it gives his students who are accustomed to observ ing other cultures online a valuable hands-on experience.
The event also featured remarks from several Mahoning Valley leaders, including Wang, Youngstown Mayor Jamael Tito Brown and YSU President Jim Tressel.
The menu featured shrimp salad with a five-flavor sauce, fresh fish ball soup, peppered beef tenderloin with turmeric rice, cashew chicken, scallops and vegetables with a spicy sauce, and almond jelly with fruit.
As for what the Taiwanese delegation thinks of Youngstown, Liang summed it up with a smile and a thumbs up.
"It's very good," she said.
Closings and Delays Taiwanese chefs bring unique tastes to Youngstown 10:55 p.m. Tue Police need your help to find missing man 10:32 p.m. Tue In Massachusetts primary stunner, Pressley unseats incumb... 10:05 p.m. Tue Campbell cops have to pay back overpaid wages 9:55 p.m. Tue Mahoning County gets grant to aid vets 9:55 p.m. Tue Latest News Latest Sports
latest news latest sports
"); return index



Canfield
Residential
3 bedroom, 3 bath
$525000
By using this site, you agree to our privacy policy and terms of use.
» Accept » Learn More
Home
News
News

Local
National
Business & Tech
Education
Health
Home
Valley Grows
Politics
Religion
Society
Travel
Outdoors
Vindy Talk Radio
Weather
Years Ago
Digital Edition

Sports

Local & Regional
National
Blitz
Greatest Golfer
Phantoms
YSU

Entertai nment

Entertainment News
Valley24
Valley Food
Entertaining Thoughts
Events
Submit an Event

Neighbors

Austintown
Boardman
Canfield
Poland

Blitz
Blitz Home
This Week's Games
Teams

Teams
Divisions
Conferences
Coaches

Top Players

Rushers
Receivers
Runners

News
Media
Opinion
Opinion

Opinion Columns
Bertram de Souza
David Skolnick
Ernie Brown
Todd Franko
Our Voice
Letter s
Vindy Talk Radio

Community Blogs

Brain food from the heartland
Burgers
Drinks
Mahoning Valley Flight Crew

Records
Tributes/Obituaries
Announcements

Deaths
Tributes/Obituaries
Births
Out of town Births
Birthdays
Engagements
Marriages/Bridal
Anniversaries

Court Filings
Community

Events
Submit an Event
Newspapers in Education
Library Channel
Search Registered Users

Communicate
Send News
Facebook
Twitter
Contact

Executive Team
Interactive Media
Newsroom
Reporters
Newsroom Clerks
Art/Photo
Features
Tributes
National
Columnists
Opinion
Society
Sports
Circulation
Advertising

Media
Videos
Photo Galleries
Vindy Talk Radio
Subscribers
Digital Edition
Print Edition
Newsletters
Text & Email Alerts
Classifieds
Classifieds
vindyHomes
vindyJobs
vindyWheels
Submit

Place an Ad
Post a Job
Sell a Car

Services
Valley Deals 365
Valley Digital Services
Source:
Google News Taiwan
|
Netizen 24 Taiwan