ROC on Taiwan continues to pay it forward


News Posted on Posted on ROC on Taiwan continues to pay it forward
Share
The Republic of China on Taiwan gave $100 million in grants to St Vincent and the Grenadines (SVG) between 2001 and September 30, 2015 â€" the most given by any individual country in that period.
So says Senator Luke Browne, who was delivering a lecture on Taiwan and its relationship with SVG at Frenches House last Thursday.
The lecture was held by the Light Hill Foundation.
Browne said that Taiwan's grant donation in the same period was "second only to the European Union which gave us grants of approximately 300 million".
He said that Taiwan's contribution to this country has been significant over the years and has touched many sectors including agriculture, health and education.
Browne, who is the minister of health, added that as of September 30, 2015, Taiwan has disbursed almost $90 million in soft loans.
"Notably the loans received from the World Bank and the IMF (International Monetary Fund) in the selected time frame, only amounted to $84 million and $39.7 million respectively. So, we see that Taiwan has given us more money than the World Bank and the IMF," he said.
The minister said that Taiwan funds the YES programme with a yearly g rant, which benefits approximately 500 Vincentians per year.
And he said that the $2.5 million grant will soon be increased.
Taiwan's contributions have also made several other initiatives possible. These include the terminal at the Argyle International Airport, the Rabacca bridge, the National Public Library, Learning Resource Centres and scholarships for Vincentians to study abroad.
Diplomatic relations between the Republic of China on Taiwan and St Vincent and the Grenadines began in 1981.
Ambassador of the Embassy of the Republic of China on Taiwan, Calvin Ho, in his remarks, gave a brief history of his country.
He said that his country withdrew from mainland China in 1949 and moved to the island of Taiwan. The ambassador said that they had to "start from zero" because public facilities and everything else needed to be built.
Ho explained that Taiwan was able to develop because of the assistance of foreign countries and that by the 90s, people across the world were referring to them as "Taiwan miracle".
"And because we have benefited from other countries of international societies, so that's why we know we need to also help other countries because we know we used to be benefit by other countries…so that's why we are here," he said.
The ambassador also said that SVG has played a major role in advocating for his country on the international scale.
"Most of you probably know our international situation. We d on't have much international participation in some international organizations," the ambassador said. "But with your help, like Prime Minister Gonsalves actually just spoke at UN assembly last month and also you know that my good friends, minister Browne actually spoke for us at this year's World Health Assembly. Actually, not the first year, already been some years."
LAST NEWS
Login
E-EDITION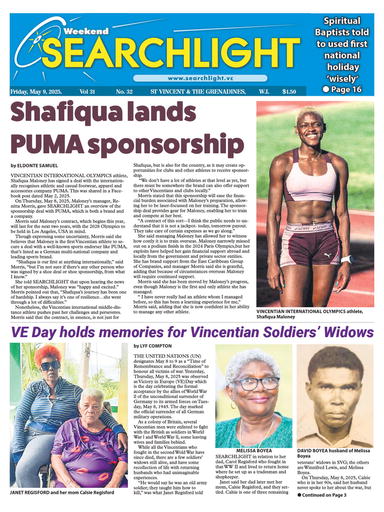 Subscribe Now
Latest articles
What's on Fleek this week
Taking a Makeup Break
News
SVG has specific perspective on matters of world peace â€" PM
Come Up Higher
Six ways to afford a vacation when you have limited cash
From the Courts
No hope of bail for trio on a host of criminal charges
Sports
Former Greiggs softball champions trump in weekend's play
News
Taiwan Ambassador praises SVG during National Day celebration
News
EC$8 per night hotel levy in effect from October 1
Hey Rosie!
Just found out my loving husband is having an affair with a man
News
SVG signs US$3.5 million agreement with Japan
Local Vibes
Proud to be named the Best All-round Restaurant in 2018 Best of SVG Awards
We use cookies to ensure that we give you the best experience on our website. If you continue to use this site we will assume that you are happy with it.OkSource:
Google News Taiwan
|
Netizen 24 Taiwan